Availability
Please check availability with us on all bookings, within 2 months at peak times. Spaces may be limited 60 days prior to the event date from April – September.
We will take bookings within 42 days prior to arrival and up until a minimum of 7 days prior to arrival, providing that full payment is made immediately, and it is agreed this is 100% non-refundable or cancellable.
Deposit
We require a 25% non-refundable deposit in order to confirm your booking time and date and begin preparing your weekend. Once we have received the deposit, we will reserve the activities in advance, ensuring the activity can be delivered on the required date and stopping other groups from taking your preferred dates and time slots. A higher deposit of 50% may be requested if a lower package price is agreed by doing so which will then also be non-refundable.
The deposit is used to administer the reservation of the activities and other services and to prepare for the weekend itself. The deposit is non-refundable, therefore we advise groups to take out an appropriate insurance policy covering group cancellation at Go Travel Insurance which can be found following this link;
Full Payment
We require an additional 25% 84 days ( 12 weeks ) before the arrival date and the remaining balance of 50% 42 days ( 6 weeks ) prior to the arrival date. Payments can be paid in advance of these dates and refunded (minus the deposit) if cancelled before 42 days prior to the arrival date. No amendments to numbers or cancellation can be made after this date and no refunds will be given.
Cancellations
Any amendment to group numbers or group cancellation made after the deposits are laid down will result in the deposit payment for that individual or group being forfeited. Their event slot will be cancelled.
Any cancellation up to 42 day prior to arrival will result in a full refund minus the deposit payment of 25%.
Any cancellation within 42 days of arrival is 100% non-refundable.
How to make a payment:
We do not take individual payments over the phone only group payments for deposits and full payments.
Via Paypal
We will send you a 2 part invoice via paypal directly to your email for your event package – Pay the 25% deposit to confirm the booking, 2nd 25% 84 days (12 weeks) prior and the remainder will be due 42 days (6 weeks ) before your Stag or Hen Weekend.
Alternatively use your camera on your mobile phone to scan the below code. You will be taken to your paypal account and be able to make a payment to us.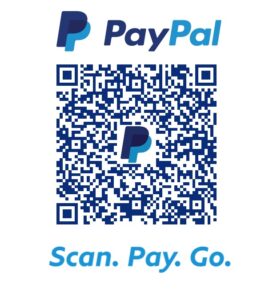 https://www.paypal.me/stagandhenworld?locale.x=en_GB
Bank Transfer
Alternatively, payments can be made to our bank through a bank transfer or by popping into your local branch. Details can be provided on request.
Cheques
Send payment by cheque and addressed to:
Stag and Hen World, Accounts Department, 48 East Hill, London, SW18 2HH
Made payable to Stag and Hen World, on arrival of payment you will be sent confirmation by email or by phone. Please allow 5 working days for the cheque to clear in advance of any deadline date, 47 days prior to final payment ( Plus 2 days for the weekend if appropriate ).
Easy group deposits and full payment via Paypal.
If you are unable to make a group deposit or group full payment from one card or individual, we recommend making payments through PayPal.
Payments can be made to [email protected]
You can provide us a list of names and emails for your group members and we will email each member of the group, providing them with the payment amounts and details, so they can pay individually for deposits and full payment.
We will not be held responsible for late payers and our standard payment terms and conditions apply.
Note from us @ Stag and Hen World
We're confident that we provide some of the most competitive prices around at a high level of service, we achieve this through charging a fair price for our services and of course our relationships with our suppliers to ensure we give you the best prices possible with superior service and quality of activities. We look forward to welcoming you, like all those who have already had a fantastic time with us in the past.